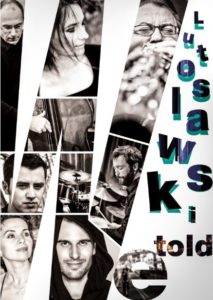 The title of the project "We told  Lutoslawski" – inspired by Anna Ciborowska- is not only a play on words but provides a key to the concept of the project. "We told  Lutoslawski" forms an unconventional encounter with the great Polish composer's music. The artists cite fragments from his scores – the Concerto for Orchestra and Chantefleurs et Chantefables  engaging with them, however, through their own narration. They express what they hear in the music of Lutosławski in their own idiom. The acoustic fabric of these works gives us a pretext for improvisation in different styles.  New musical structures are created: collages of contemporary and jazz sounds and colours, musical landscapes juggled by the musicians …. 
"We told  Lutoslawski" is an artistic adventure for both performers and listeners. Musicians who performed in the project: Anna Ciborowska ( piano),Cezariusz Gadzina (saxophones), Jean- Paul Estievenart and Robert Majewski( trumpet), Michał Zaborski (alto), Krzysztof Lenczowski ( cello, guitar), Adam Cegielski and Christophe Devisscher (double bass), Lionel Beuvens, Adam Czerwiński , Krzysztof Gradziuk and Tefari (drums), Marcin Steczkowski (digital effects),Paweł Tomaszewski (Hammond's organ), Aga Wińska  (soprano).
 The concert tour in 2013:
06 Centre Culturel Espace Senghor in Brussels,
10 concert in Koblenz,
10 Mazovian Cultural Centre in Warsaw,
11 African Jazz Village in Addis Abeba (Ethiopia).